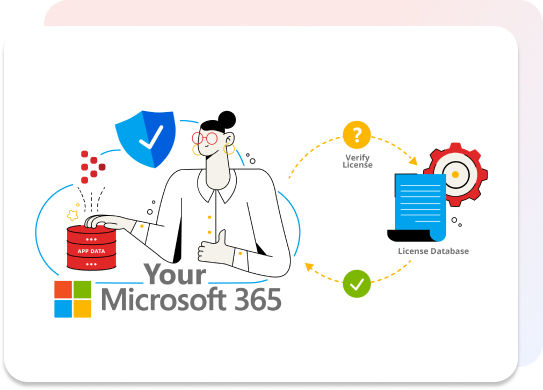 Welcome to Enable 365's Privacy Hub!
Your privacy and data security are our top priorities.
The best part? With our apps, all your data stays right where it should – in your own Microsoft 365 environment!
No data stored elsewhere; no worries! Dive in to learn more, and reach out if you have any questions.
Microsoft 365 Applications developed by Enable 365
Enable 365 develops applications that can be used from both Microsoft Teams and other services in the Microsoft 365 port sequence.
These applications run in customers' own Microsoft environments and are subject to the privacy policy Microsoft has for its applications and customers' data processing agreements with Microsoft.
Enable 365 does not collect any personal data on behalf of the applications.
Enable 365 only checks the customers' Microsoft 365 tenant for a valid license against our licensing service, which runs in our Azure tenant.
License validity verification is essential for the Teams apps PlanIt and Agenda and all our apps to function correctly.
No sensitive data is exchanged or processed.
The only data transmitted encrypted for verification purposes is tenant ID, which is publicly available data; group ID is the same as team ID and, therefore, is not sensitive data.
Microsoft Teams App Publisher Attestation: PlanIt
Microsoft Teams App publisher Attestation: Agenda
Microsoft AppSource Terms of Use.
Purpose
This Privacy Statement describes how Enable 365 collects and uses personal data.
The content of this page is identical to what is reproduced as a privacy policy in Enable's internal control at any given time. In case of doubt, the version of internal control is applicable.
The statement contains general information about how we process privacy data and collect personal data via our website and apps developed for Microsoft Teams.
Enable, by the general manager, is the data controller for the company's processing of personal data. Where the daily tasks are delegated, it appear under each individual point. The delegation includes only the tasks and not the responsibility. The statement contains information you are entitled to when collecting information from our website (Section 19 of the Personal Data Act) and general information about how we process personal data (Section 18, 1st paragraph of the Personal Data Act).
Online processing of personal data on  Enable 365 website and applications for Teams developed by Enable 365
Enable 365 does not store personal data for users of Enable 365 website or any of the applications for Teams developed by Enable 365
Non-personal-identifiable application data usage might be collected with the sole purpose of optimizing the application usage and performance.
Cookies
Enable 365 uses cookies on its websites.
CRM
Enable 365 uses CRM and a billing system based on SharePoint (self-developed). The respective account managers follow up that the actual case processing is in accordance with the routines.
Enable processes of personal data in order to safeguard the interests of the customer/contact in connection with the provision of consultancy services.
Different types of personal data are registered in the customer system. This is information such as name, address, telephone number, and other relevant information for the customer relationship.
E-mail and phone
Enable 365 uses e-mail and telephone as part of daily work to safeguard the interests of its customers. Relevant information that emerges from phone calls and e-mail exchanges that occur as part of sales and delivery projects is recorded in CRM and Service Desk where relevant.
The individual employee is responsible for archiving relevant e-mails in digital case folders belonging to the individual project and otherwise deleting no longer relevant messages. Upon resignation, the e-mail accounts will be deleted, but some relevant emails related to customers/projects will normally be transferred to colleagues or placed in digital case folders belonging to the individual project.
Sensitive personal data is not sent by unencrypted e-mail without the customer's consent. To the extent needed, the individual enables employees to send encrypted e-mails to avoid the risk of information of a more sensitive nature going astray. Please note that regular e-mail is unencrypted and therefore does not encourage you to send confidential, sensitive, or other confidential information by e-mail.
Phone calls are not logged centrally and are unavailable to Enable/employees. However, the employee has an overview of the latest calls on their phones. If a phone call is related to an individual case, a note related to the customer or project may be written after the call has been completed. No other systematic registration of telephone calls is made where the caller can be identified.
Employee information
Enable 365 processes personal data about its employees in order to manage salary and personnel liability in accordance with Sections 8, first paragraph and section 8 a), b) or f) of the Personal Data Act, as well as § 9 a), b), and f). It is the financial manager who has the day-to-day responsibility for this. Necessary information is recorded for the payment of wages, such as basic data, salary level, time registration, tax percentage, and tax municipality. Other information about employees is related to the employee's work instructions and the facilitation of his/her work.
In addition, information in connection with key management of entry and exits and information about access management is recorded in the IT system. The information is retrieved from the employees themselves. The information is only disclosed concerning salary payments and other statutory disclosures. Deletion routines for personnel information follow the Accounting Act and the Archives Act. Information about the name, position, and work area is public information and may be published on our website.
Storage of job applications
All job applications are stored at Enable for one year before being shredded. It is the general manager who is responsible for this.
Exceptions apply to all former and current employees with a personnel folder in our archive system. Here, among other things, the job application is archived/stored. Personnel folders must be preserved (that is, the job application is not deleted or shredded). Personnel folders are cleared upon the expiry of the employment relationship.
Rights
Everyone who asks is entitled to basic information about processing personal data in a business pursuant to Section 18 of the Personal Data Act, first paragraph. Enable 365 provided this information in this statement and will refer to it upon request.
Those registered in one of Enable 365's systems are entitled to access their own information. The person concerned also has the right to request that incorrect, incomplete, or information Enable 365 is not allowed to process be corrected, deleted, or supplemented.
As a starting point, the person concerned is also entitled to delete all information about himself or herself, but there may be exceptions here due to special regulations. Claims from the data subject must be answered free of charge and no later than 30 days.
Contact Enable 365
Our website address is: https://www.enable365.ai
Please contact us if you have any questions about our processing of personal data.
(Select the category «Other»)
Phone: +47 993 03 700
Postal address: Enable 365 w/ general manager, Klæbuveien 194, 7037 Trondheim